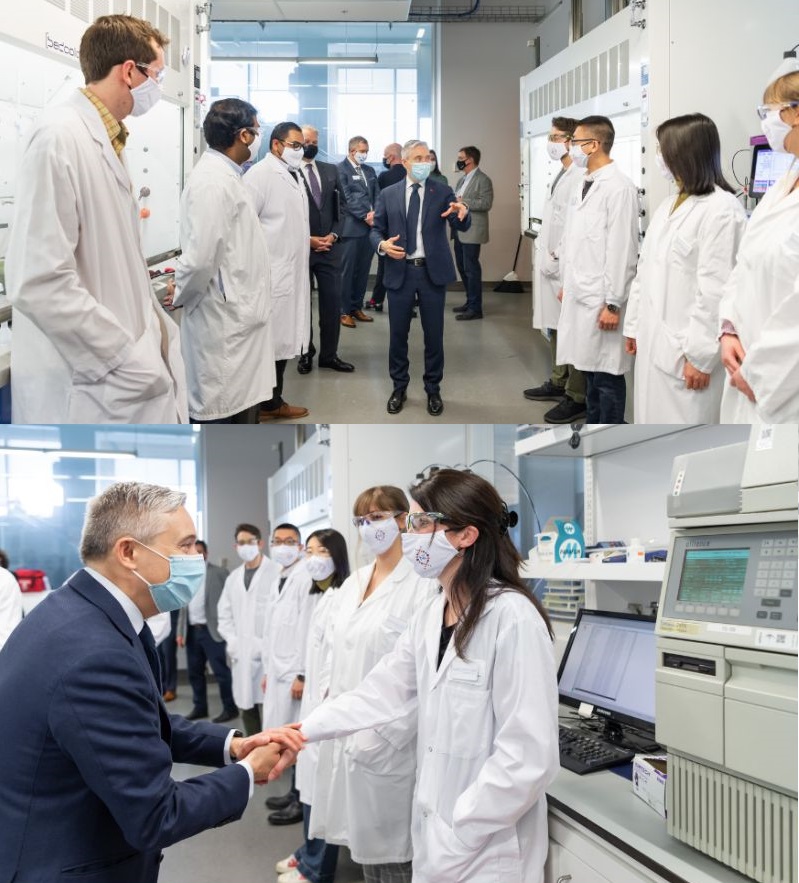 The Honourable François-Philippe Champagne PC, MP (Minister of Innovation, Science and Industry) visits NanoVation's Vancouver headquarters, meets with the NanoVation team (top) and is introduced to Dr Kate Hollinshead (bottom).
NanoVation Therapeutics (NTx) is a gene therapy company developing next-generation lipid nanoparticles (LNPs) for the safe and efficient delivery of nucleic acids to a variety of tissues. NanoVation`s toolbox includes a leading portfolio of novel and unencumbered specialty lipids, LNP compositions, and RNA modifications as well as formulation and synthesis methods.
NTx was co-founded and is led by former NMIN HQP Drs Dominik Witzigmann and Jayesh Kulkarni, together with a world-leading team of experts including NMIN Founding Scientific Director Dr. Pieter Cullis and other NMIN Network investigators.
NanoVation has already raised significant funding, created numerous new jobs (employing seven former NMIN HQP), and continues to pursue innovative research lines to extend its one-stop-shop LNP-nucleic acid IP portfolio.
Presently, NanoVation has multiple ongoing industry collaborations to tailor LNP systems for rapidly developing gene therapies, and aims to launch two disease-focused start-up companies in the next 6 months.
Its new UK team is led by Managing Director Dr. Arpan Desai and Scientific Director Dr. Frederick Campbell. UK-based Professor Molly Stevens, is joining the NanoVation Therapeutics UK`s Board of Directors, serving alongside Dr. Cullis.
"The addition of NanoVation Therapeutics UK is a critical strategic step in our growth as a leader in the design and development of lipid nanoparticles to deliver nucleic acids to all parts of our body," comments Dr. Witzigmann, CEO of NanoVation Therapeutics.
"The gene therapy sector is rapidly growing in the UK, but delivery remains a critical bottleneck. NanoVation Therapeutics UK is ideally placed to generate the delivery science innovations that will enable the next wave of genetic medicines," adds Dr. Desai, Managing Director of the UK GENErator™.