NMIN 2024 Research Conference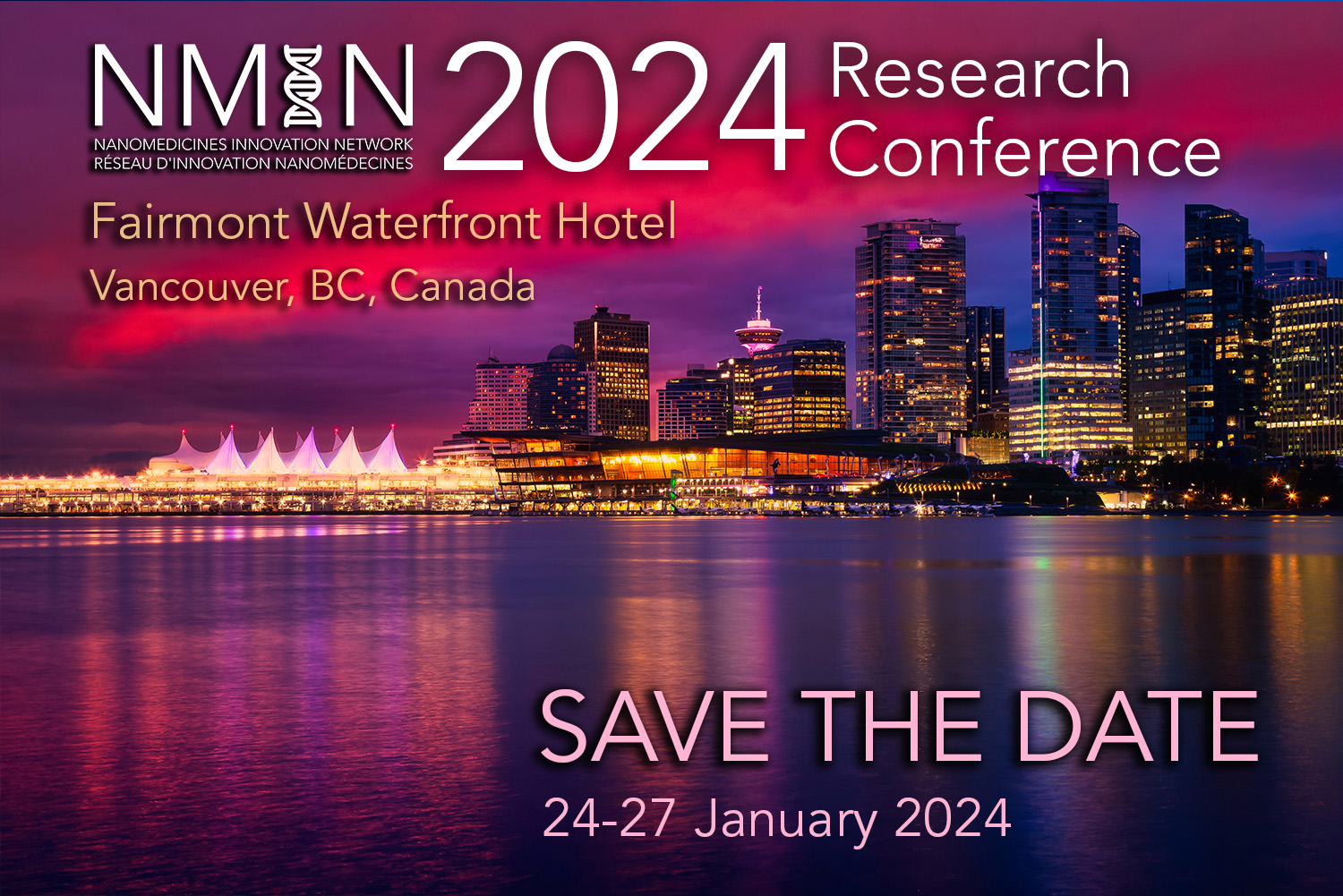 NMIN's 2024 Research Conference
will bring together a collection of Canada's foremost nanomedicine researchers and innovators, including NMIN Scientific Leaders, Theme Leaders, researchers, trainees, and industry and not-for-profit partner organizations, to:
share Network research results contributing to realizing the revolutionary potential of nanomedicines and generating social and economic benefits for Canadians;
feature posters by NMIN trainees – the next generation of nanomedicine research talent, sector leadership and innovation; discuss nanomedicine industry priorities and plans for expansion of the Canadian ecosystem, with input from NMIN spin-off company representatives;
learn from invited keynote speakers with expert knowledge about global innovation trends, nanomedicine science, and experience in scaling nanomedicine companies from local to global operations; and
explore opportunities to enhance and accelerate Canadian contributions to world-leading nanomedicines science and technologies.
More information coming soon. Please check back.

Day 1 (Thursday, November 17, 2022)
Welcoming remarks from NMIN Board Chair Dr. Inès Holzbaur
Opening Keynote presentation by Lloyd Jeffs (Senior Director of Pharmaceutical Development), Precision NanoSystems
NMIN Spin-off Company Presentations: overview presentations on the six start-up companies to have emerged from NMIN research to date
Networking reception
Day 2 (Friday, November 18, 2022)
Research sessions:
– NMIN's Legacy Core Facilities
– Triggered release & targeted delivery research
– Advancing nanoparticle applications
Invited Presentation by Dr. Shehzad Iqbal, Senior Medical Director, Canada, Moderna
Poster Presentations and judging
Gala dinner with
HQP Awards and a special Recognition Ceremony (only included with full registration)
Day 3 (Saturday, November 19, 2022)
Research sessions:
– Immunotherapy research
– Cancer diagnostics and therapeutics research
Panel Discussion: NMIN Legacy Opportunities for Impact
Closing Keynote presentation by NMIN's Founding Scientific Director, Dr. Pieter Cullis
Joint reception for Scientific Meeting and Trainee Symposium attendees
Day 4 (Sunday, November 20, 2022)
Anna Blakney
University of British Columbia
Warren Chan
University of Toronto
Pieter Cullis
University of British Columbia
Shana Kelley
CTRL Therapeutics & Arma Biosciences
Sean Moffit
Futureproofing
Gilbert Walker
NMIN Scientific Director
Dominik Witzigmann
NanoVation Therapeutics
Additional information to be added as details are confirmed. 
More information coming soon. Please check back.

NMIN HQP/Trainee:
one day $150 (each day)
all days (i.e., full registration; includes Trainee Symposium) $400
NMIN Researcher/Collaborator:
one day $200 (each day)
all days (i.e., full registration) $500
Guest:
complementary (code required)
Gala dinner (Nov 18):
included in full registration
$175 otherwise
$175 for each additional guest
NMIN's 2024 Research Conference will be held at:
Fairmont Waterfront Hotel
900 Canada Place Way, Vancouver, BC, Canada
Located on the city's dynamic harbourfront, Fairmont Waterfront is a world class luxury hotel. They offer upscale comfort, personalized service, and unparalleled West Coast views, with easy access to everything that makes Vancouver spectacular.
We invite organizations that share NMIN's commitment to the revolutionary potential of nanomedicines, and that wish to help develop the next generation of Canadian nanomedicine researchers and entrepreneurs, to partner with us as event sponsors.
We offer various levels of sponsorship to ensure the best fit with your organization's marketing, outreach and networking objectives.
Please review the sponsorship opportunities in our prospectus.
If you are interested in sponsoring, or have any questions, please contact:
Divya Rao
NMIN HQP Program and Network Events Manager