Since news of the Pfizer-BioNTech COVID-19 vaccine first broke in November 2020, growing recognition has been given to the Canadian nanomedicine-based component underlying the vaccine's effectiveness: the lipid nanoparticle (LNP) delivery system that originated from basic research by NMIN Scientific Director Dr. Pieter Cullis that started over 40 years ago his laboratory at The University of British Columbia (UBC).
In media and elsewhere, recognition of the role of Vancouver-based biotechnology company, Acuitas Therapeutics (Acuitas), in the vaccine's production has also increased. Acuitas was co-founded by Dr. Cullis as a UBC spin-out company in 2009 (initially as AlCana Technologies).
A recent example is the 26 April 2021 GlobalNews broadcast "UBC researchers help develop Pfizer COVID-19 vaccine," filmed in the Cullis lab at UBC, in which Dr. Cullis and UBC Dean of Medicine and Vice-President Health Dr. Dermot Kelleher are interviewed.
Watch the video
"It's a testament to investment in basic science in Canada that we've been able to really make a huge difference to global health," comments Dr. Cullis in his GlobalNews interview, about the role of his research in making Pfizer-BioNTech's vaccine possible.
On the same day, UBC published the story "UBC-grown biotech companies lead global pandemic efforts," which further observes how "Precision NanoSystems, developed through a collaboration between Dr. Carl Hansen and Dr. Cullis at UBC, is leveraging its cutting-edge biomanufacturing platform… to build one of Canada's first large-scale manufacturing facilities capable of producing mRNA vaccines and other genetic medicines domestically."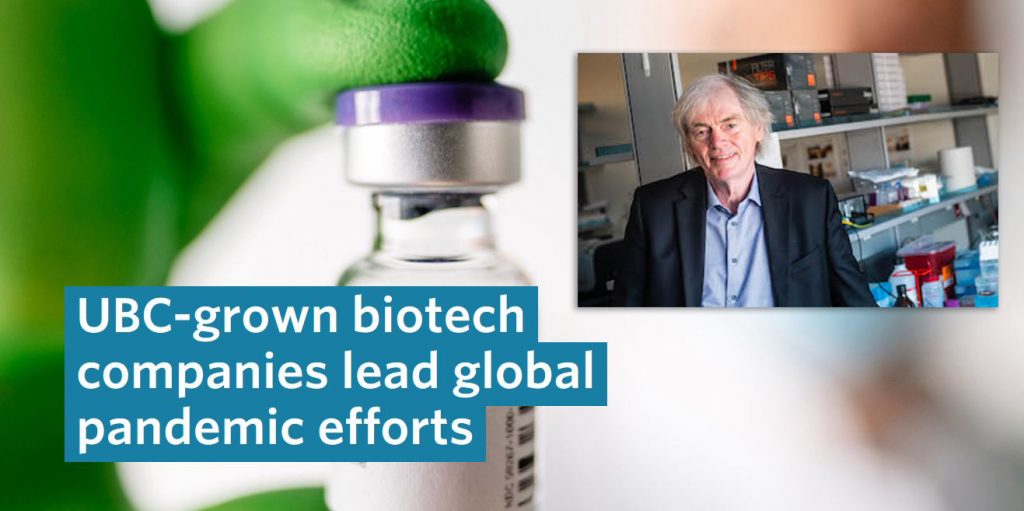 An insightful discussion of the indispensability of LNPs to the Pfizer-BioNTech vaccine, and the history of their development, is published in the March 2021 issue of Chemical & Engineering News, in the article titled "Without these lipid shells, there would be no mRNA vaccines for COVID-19."
"The vaccines, appropriately celebrated as a first for mRNA technology, are also a milestone for the nanoparticle field," notes the author. "Although the first drug based on an LNP was approved by the US Food and Drug Administration for a rare genetic disease in 2018, the two authorized mRNA vaccines for COVID-19 present a far bigger opportunity for the nanoparticles than even the field's founders can imagine."
"LNPs will be going into millions of arms over the course of this year," Dr. Cullis is quoted as saying: "What was a fringe field back in the 1980s has turned into something that is mainstream now."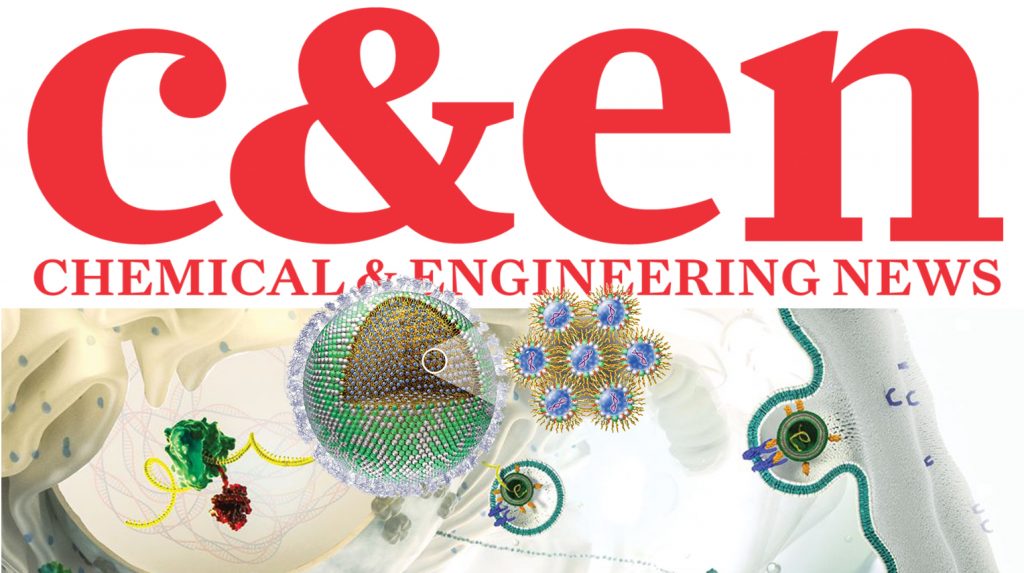 Appreciation is also growing for how the efficacy of Pfizer-BioNTech's COVID-19 vaccine exemplifies the tremendous potential of LNP-enabled mRNA and gene therapies more generally. This is the focus of an online resource launched 28 April 2021 by the Canadian Institutes of Health Research (CIHR), Canada's federal funding agency for health research.
The resource, entitled "The long road to mRNA vaccines," explores the scientific advances that enabled the COVID vaccine and that will enable other mRNA vaccines in future. The resources include a timeline and a video of CIHR President Dr. Michael Strong addressing the question "Was the COVID-19 vaccine science rushed?"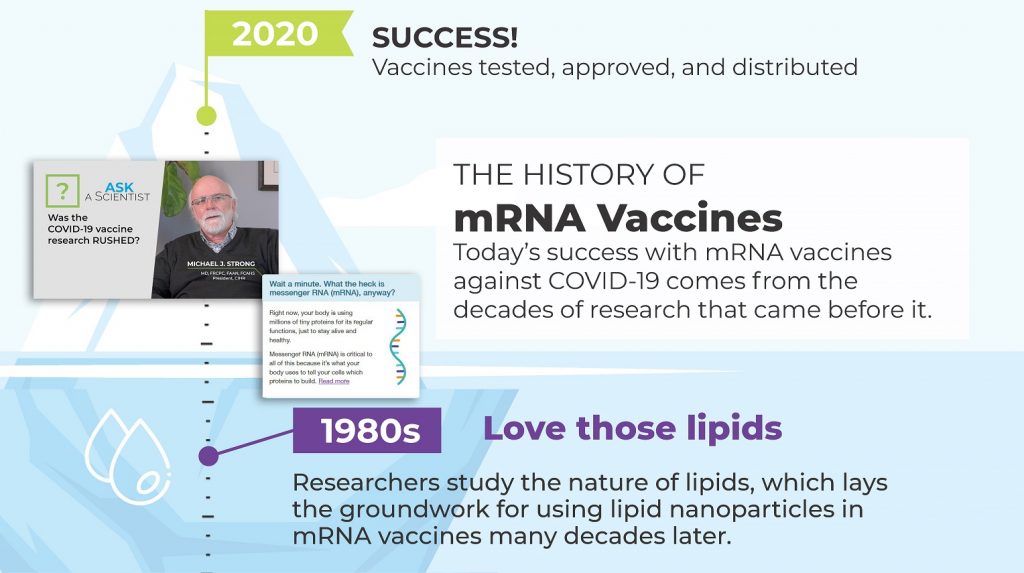 Quartz, an online business journalism site, published a guide to "The Age of Genetic Medicine" on 9 May 2021, discussing how mRNA-based COVID-19 vaccines were ushering in a new wave of pharmaceuticals: "new pharmaceutical companies are ready to roll out novel therapies by tweaking the way our bodies use genetic code. Through these new approaches, drug developers can direct our bodies to make beneficial proteins or halt the production of toxic ones. In theory, there's no limit to the kinds of diseases we could treat this way."
The guide discusses the contribution of Dr. Cullis and colleagues to this development extensively. "It's revolutionary," Dr. Cullis is quoted as saying. "We're starting to use the biology that our bodies use in a therapeutic way."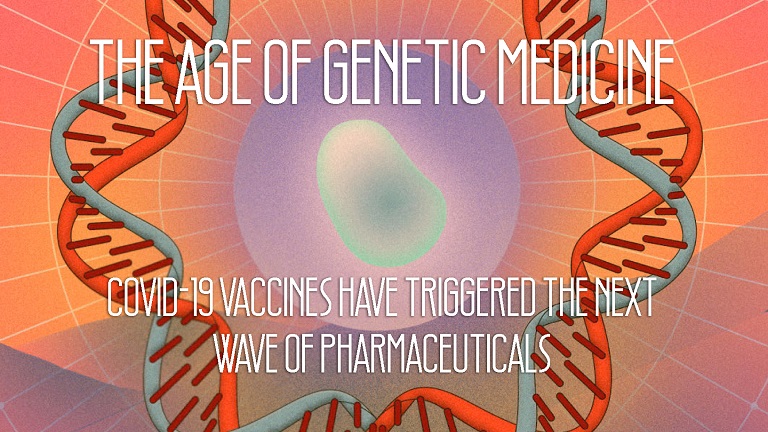 Anticipating, as the GlobalNews report notes, an imminent "avalanche of vaccines, due in part to his decades of medical research," Dr. Cullis concludes that "for any scientist, this is certainly the culmination of a dream."
For more background, including a link to a video of Dr. Cullis discussing the history of his LNP research, and for links to additional media coverage, see the original NMIN report on this topic.
UPDATES:
On 11 June 2021, Dr. Cullis was interviewed by Quirks & Quarks host Bob McDonald on CBC Radio regarding his role in the COVID vaccine, the nanotechnology involved, and the future potential of similar vaccines for other ailments. Listen to the interview: "Meet the Canadian scientist who paved the way for for groundbreaking mRNA COVID vaccines."
On 19 August 2021, Dr. Cullis' pioneering work on the mRNA vaccine delivery system was highlighted in Forbes, then again on 15 September 2021 in Nature's "The Tangled History of mRNA Vaccines."
An interview with Dr. Cullis, "From lipids to lipid nanoparticles to mRNA vaccines," was featured in Nature Reviews Materials on 21 September 2021.
In November 2021, Dr. Cullis and his colleagues Drs Katalin Kariko and Drew Weissman were honoured with the 2021 Prince Mahidol Award for their contributions to COVID-19 mRNA vaccines, and profiled in The Lancet.
In January 2022, the same trio were awarded the inaugural VinFuture Grand Prize and their work featured in The New York Times article "Halting Progress and Happy Accidents: How mRNA Vaccines Were Made."