Canadian scientist Dr. Pieter Cullis, together with his peers Drs Katalin Kariko and Drew Weissman, have been honoured with the 2021 Prince Mahidol Award for their contributions to the development of COVID-19 messenger RNA (mRNA) vaccines.
Through over 40 years of work in his University of British Columbia (UBC) laboratory, Dr. Cullis and UBC colleagues developed the 'made in Canada' linchpin technology essential to the successful use of mRNA vaccines: lipid nanoparticles (or LNPs), the microscopic bubbles of fat that protect the mRNA and deliver it to the interior of target cells.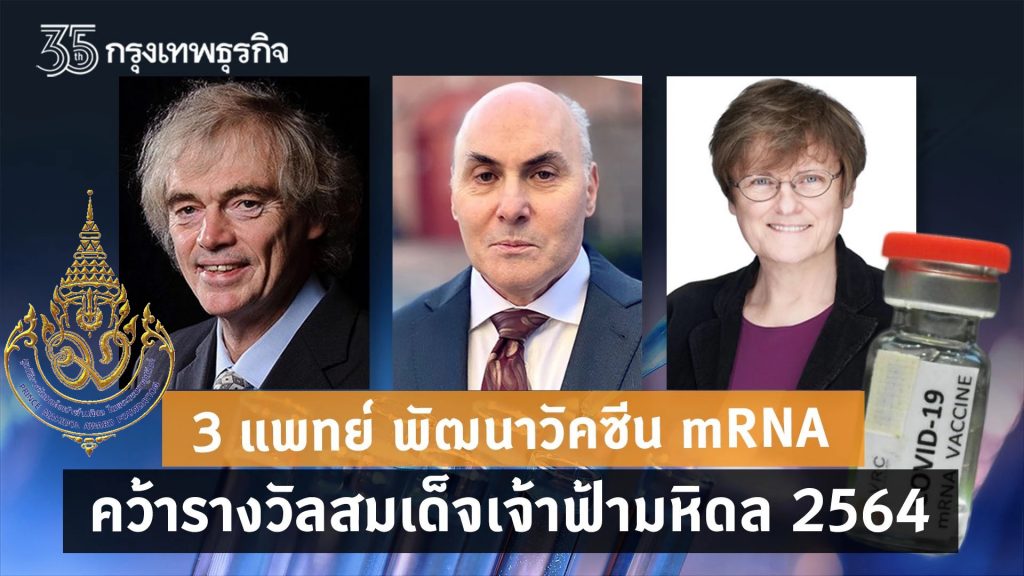 Drs Cullis, Weissman and Kariko depicted in a Thai news announcement about the 2021 award.
Prof. Cullis' achievement not only made COVID-19 mRNA vaccines possible but has also created a way to safely deliver nucleic acid strands into cells [opening the way to treating many different diseases, including many currently untreatable ones]
Dr. Cullis, a Professor in the Department of Biochemistry and Molecular Biology at the University of British Columbia, was the Founding Scientific Director of the NanoMedicines Innovation Network (NMIN), in which he continues to play a research leadership role.
Dr. Cullis has also been extensively involved in founding companies to commercialize technologies developed in his lab, including the Vancouver, BC-based biotech company Acuitas Pharmaceuticals. This company was granted a 2021 Global Impact Award by Life Sciences British Columbia in recognition of its work with Pfizer and BioNTech in developing their highly effective mRNA-based COVID-19 vaccine.
In terms of fellow awardees Drs Kariko and Weissman, their ground-breaking joint research contributed fundamentally to the use of mRNA in vaccine development. "Their 2006 discovery that modifying nucleosides in mRNA strands could reduce cellular reactions toward foreign RNA was an important step in mRNA technology," comments Panich.
The University of Pennsylvania-based pair has already been jointly recognized for this work with numerous prestigious awards, including the 2021 Dr. Paul Janssen Award for Biomedical Research, the 2021 Lasker Award, the 2021 John Scott Award, the 2021 Lewis S. Rosenstiel Award for Distinguished Work in Basic Medical Research, and the 2021 Louisa Gross Horwitz Prize.
"It is extremely gratifying to be honoured with awards such as the Prince Mahidol Award," observes Dr. Cullis, "but in truth it takes the work of hundreds of people to bring advances like LNP delivery systems to fruition."
What is even more gratifying is to see Canadian ingenuity lead to innovations in medicine that are having significant, global impacts on health and human welfare. All Canadians should be proud of these contributions…
"But Canadians should also keep in mind," continues Dr. Cullis, "that it will take ongoing public investment in research, development and infrastructure to continue enabling made-in-Canada solutions that will help ensure national, if not global, health security."
The annual Prince Mahidol Award recognizes outstanding achievements in medicine and public health worldwide. The award is conferred by the Prince Mahidol Award Foundation, founded by the Thai Royal Family in 1992, and consists of a medal, a certificate, and a prize of US $100,000. The 2021 awardees were selected out of a pool of 86 nominations from 35 countries.
Read about the 2021 Prince Mahidol Award in The Lancet and in The Globe & Mail.

Dr. Prasit Watanapa (Dean of the Faculty of Medicine, Siriraj Hospital, Mahidol University); Mr. Tanee Sangrat (Director-General of the Department of Information, Ministry of Foreign Affairs of Thailand); Professor Vicharn Panich (Chairman of the International Award Committee of the Prince Mahidol Award Foundation), and others at a joint press conference held in Bangkok, Thailand, on 15 November 2021 to announce the Prince Mahidol Award for 2021.
For more on global recognition for the role of LNPs in COVID vaccines, and for Dr. Cullis's role in developing this technology, see previous NMIN reporting on this topic.