"There is no time like the present to try to achieve impossible dreams"
The contributions of NMIN Research Leader Dr. Pieter Cullis toward enabling effective mRNA vaccines, most notably against COVID-19, continue to garner high-profile recognition.
Most recently, Dr. Cullis was featured on CBC's Quirks & Quarks; his role was cited in articles in Forbes magazine and the journal Nature; and he was interviewed on the topic in Nature Reviews Materials.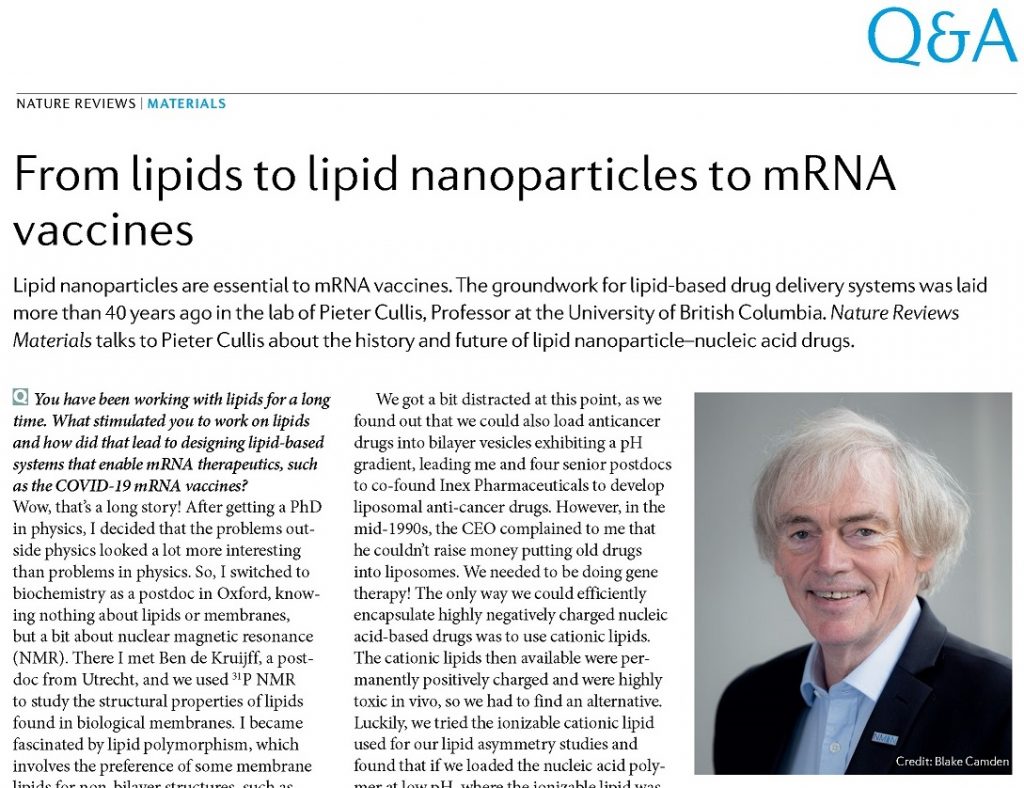 Nature's 14 September 2021 news feature "The tangled history of mRNA vaccines," provides a survey of the scientific progress in various fields leading to the creation of the successful mRNA COVID-19 vaccine. After reviewing the history of research on mRNA and its therapeutic potential, the piece observes:
As for linchpin technologies, many experts highlight another innovation that was crucial for mRNA vaccines — one that has nothing to do with the mRNA. It is the tiny fat bubbles known as lipid nanoparticles, or LNPs, that protect the mRNA and shuttle it into cells. This technology comes from the laboratory of Pieter Cullis…
The Nature feature then goes on to recount how the BC-based biotech company Acuitas Therapeutics, founded by Dr. Cullis, successfully collaborated with mRNA experts such as Dr. Drew Weissman toward leveraging LNP technology for mRNA vaccine delivery.
The piece concludes with a glance at the burgeoning potential of mRNA vaccines and associated industries—and the likelihood that someone within the various converging threads of research behind the development of mRNA vaccines is likely to receive a Nobel prize.
On the topic of recognition, Dr. Cullis is quick to contextualize all the attention he has been receiving.
"You really can't claim credit," he is quoted as saying: "We're talking hundreds, probably thousands of people who have been working together to make these LNP systems so that they're actually ready for prime time."
On 21 September 2021, Nature Reviews Materials carried a Q&A piece with Dr. Cullis entitled "From lipids to lipid nanoparticles to mRNA vaccines." In the interview, Dr. Cullis surveys his personal scientific journey, the trajectory of his 40-year focus on lipids, his growing involvement in founding companies to realize the potential of his research, and the satisfaction of seeing his work come to fruition:
When BioNTech/Pfizer announced that the vaccine was 95% effective for preventing COVID-19, I couldn't believe it.
Even after a few glasses of scotch, I still couldn't believe it.
He also reflects on the advantages of LNP systems for delivering nucleic acids and ponders the challenges and possibilities that lie ahead when it comes to LNP-enabled therapeutics and the clinical translation of nanomedicines more generally.
In terms of the future, in the Nature Reviews Materials interview Dr. Cullis concludes: "If there is one thing life has taught me, it's that there is no time like the present to try to achieve impossible dreams."
Read the Nature news feature  |  Read the Nature Reviews Materials interview
For more background
, including a link to a video of Dr. Cullis discussing the history of his LNP research, and for links to additional media coverage, see the previous
NMIN reporting on this topic
.