Entos Pharmaceuticals Inc., led by NMIN researcher Dr. John Lewis, has received the 2020 BioAlberta Achievement award for Company of the Year.
At its 16 November 2021 AGM, BioAlberta announced the recipients of its 2020 Achievement Awards, recognizing individuals and companies who have contributed to the success of Alberta's life sciences sector.
Entos Pharmaceuticals Inc. (Entos),  an Edmonton-based biotechnology company focused on next generation nucleic acid-based therapies, was named Company of the Year.
Using its proprietary Fusogenix delivery platform, in 2020 Entos demonstrated remarkable success in producing a DNA vaccine for COVID-19. Entos is also developing genetic medicines  for cancer, aging and infectious diseases.
Entos Pharmaceuticals Inc. is a true leader in Alberta's life sciences ecosystem. It's an honour for us to recognize Dr. John Lewis, Colin Coros and their team for their exceptional achievements toward development of a made-in-Alberta COVID-19 solution.
"It is a pleasure to accept this award as recognition for all the hard work the Entos team has put in this last year," stated Dr. Lewis. "Over the last year and a half, we have transformed our small 12-person research and development company into a growing 50-person clinical-stage genetic medicine company. Our next steps are to leverage the lessons learned with the development of our COVID-19 vaccine to develop the next generation genetic medicines to cure disease".
Dr. Lewis is a professor in the Department of Oncology at the University of Alberta, where he also holds the Frank and Carla Sojonky Chair in Prostate Cancer Research.  Dr. Lewis previously received BioAlberta's 2018 Scientific Achievement and Innovation Award.
BioAlberta is a member-driven association that represents and promotes the province's vibrant and diverse life sciences industry.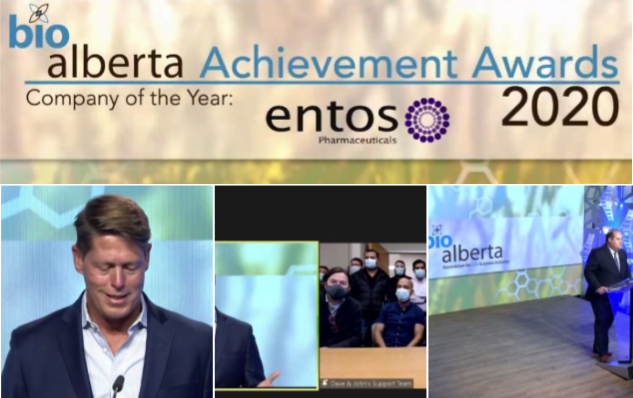 Dr. John Lewis (bottom left) accepts the recognition on behalf of the Entos team at the BioAlberta Achievement Awards ceremony.