The NanoMedicines Innovation Network (NMIN) is pleased to announce eight new recipients of NMIN Advanced Training Certification (ATC).
NMIN's Advanced Training Certification, or ATC, recognizes an individual's engagement in diverse capacity-building activities offered by NMIN, its partners, and other recognized organizations, where the learning involved goes "above and beyond" the training typically provided in an academic program and contributes to the formation of a well-rounded professional.
NMIN's ATC provides a competitive advantage by formally recognizing national-level network experience as well as training and experiential learning across a broad range of professional and interpersonal skills.
There are currently three levels of NMIN ATC: Silver, Gold, and Platinum.
The eight new NMIN ATC recipients, the second group to be accredited, are listed below. All have qualified for Silver certification, having engaged in activities ranging from attendance at lectures and webinars, to participation in the HQP Research Presentations Series and serving on the NMIN HQP Network (NHN) Executive Committee. They continue to earn credits towards their Gold ATC.
A virtual recognition ceremony was held on 25 January 2022 with NMIN Scientific Director Dr. Christine Allen, Associate Director Dr. Gilbert Walker, Executive Director Dr. Diana Royce, and Dr. Nicolas Bertrand, Chair of NMIN's Program HQP Advisory Committee (HPAC).

Watch the video of the ceremony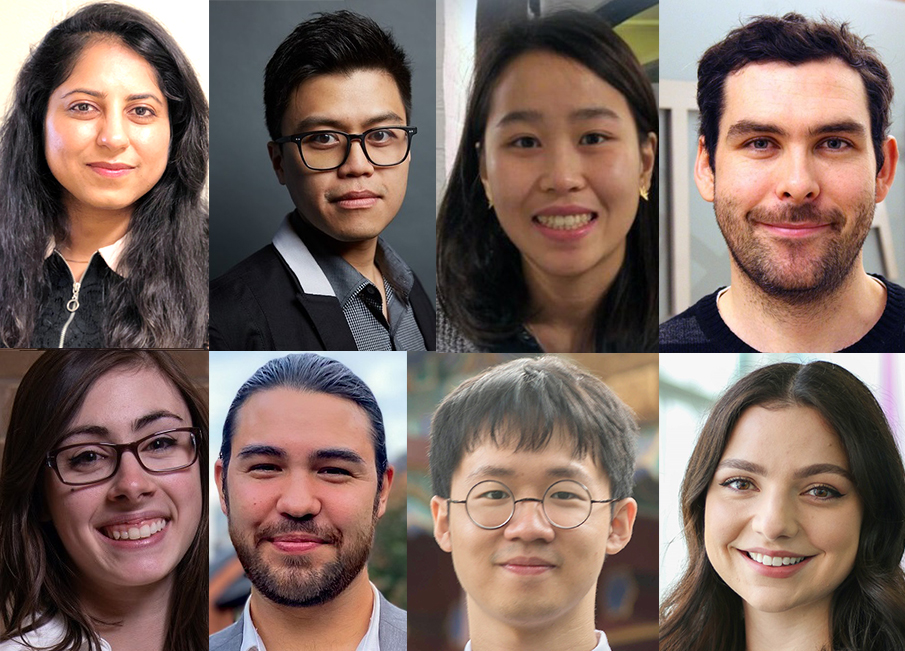 Top left to right in photo above:
Dr. Noorjahan Aibani , Postdoctoral Fellow, University of Saskatchewan; supervisor: Dr. Ellen Wasan
Dr. Kent Chen, Technology Development Scientist, Genevant Sciences; former supervisor: Dr. Marcel Bally
Dr. Miffy Cheng, Postdoctoral Fellow, University of British Columbia; supervisor: Dr. Pieter Cullis
Dr. Michael Dunne, Postdoctoral Fellow, University of Toronto; supervisor: Dr. Christine Allen
Bottom left to right in photo above:
Presley MacMillan, PhD candidate, University of Toronto; supervisor: Dr. Warren Chan
Quinn Matthews, Master's candidate, University of Toronto; supervisor: Dr. Keith Pardee
Yulin Mo, PhD candidate, University of Toronto; supervisor: Dr. Gang Zheng
Sarah Thomson, PhD candidate, University of British Columbia; supervisor: Dr. Blair Leavitt