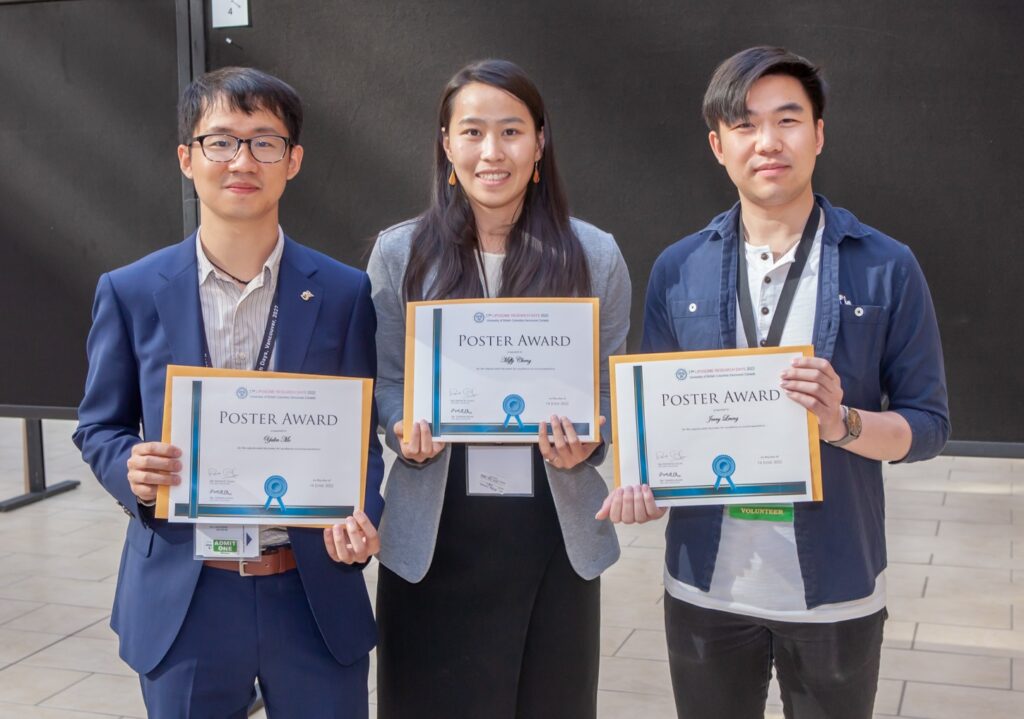 L to R: Yulin Mo, Dr. Miffy Cheng and Jerry Leung.
NMIN is extremely proud to acknowledge the NMIN trainees who won all three of the Poster Awards granted at Liposome Research Days (LRD) 2022.
Yulin Mo (University of Toronto), Dr. Miffy Cheng and Jerry Leung (both at The University of British Columbia) were the presenting authors of the posters judged to be of best quality at the event.
The three posters were among a total of eight selected in advance for oral presentation, based on scientific merit and interest, out of a total of 72 submissions.
Yulin Mo presented on "Porphyrin-Based Lipid Nanoparticle Enhanced RNA Endosomal Escape Through Near-Infrared Light," describing how the research team of which he was a part, led by NMIN researcher Dr. Gang Zheng, "developed a porphyrin-based LNP (porphy-LNP), which disrupts endosomal membranes through photoexcitation of porphyrin-lipid, thereby allowing trapped RNAs to release into the cell cytosol."
Dr. Miffy Cheng, who was also a co-author on Yulin Mo's presentation, presented "Targeted Theranostic 111in/Lu-Nanotexaphyrin for Spect Imaging and Photodynamic Therapy" on behalf of her co-authors, again led by Dr. Zheng. "This study is the first demonstration of the inherent metal chelation-driven theranostic capabilities of texaphyrin nanoparticles, which in combination with PSMA targeting enabled prostate cancer imaging and therapy," the authors noted. Since performing this work with Dr. Zheng through her affiliation with the Princess Margaret Cancer Centre in Toronto, Dr. Cheng has taken on a postdoctoral position in the UBC lab of Dr. Pieter Cullis. She was also the recipient of the 2021 NMIN Postdoctoral Fellowship Award in Gene Therapy and is NMIN's Theme 2 (Gene Therapy) Research & KTEE Accelerator.
Jerry Leung presented on "Expression of Exogenous Proteins in Donor Platelets Treated with Lipid Nanoparticles," based on research undertaken with NMIN researcher Dr. Christian Kastrup. The presentation described "a transfection technique to express exogenous protein in donor platelets ex vivo using mRNA lipid nanoparticles."
Established researchers from the international liposome/nanomedicine community judged the poster abstracts and presentations. The awards included cash prizes, courtesy of Dr. Walter Shaw, a past Bangham Award Prize winner and founder and retired CEO of Avanti Polar Lipids.
LRD 2022, the 17th Liposome Research Days since the inaugural event in 1990, took place June 12-15, 2022, at the University of British Columbia in Vancouver, Canada. Drs Pieter Cullis and Terry Allen were the lead organizers. LRD conferences focus on lipid-containing structures, whether used in basic studies or in clinical applications as drug delivery systems.