The NanoMedicines Innovation Network (NMIN) is pleased to announce 19 new recipients of NMIN Advanced Training Certification (ATC), who were celebrated in an online ceremony on 30 May 2023.
Watch the presentation ceremony
NMIN's Advanced Training Certification, or ATC, recognizes an individual's engagement in diverse capacity-building activities offered by NMIN, its partners, and other recognized organizations, where the learning involved goes "above and beyond" the training typically provided in an academic program and contributes to the formation of a well-rounded professional.
NMIN's ATC provides a competitive advantage by formally recognizing national-level network experience as well as training and experiential learning across a broad range of professional and interpersonal skills.
There are currently three levels of NMIN ATC: Silver, Gold, and Platinum.
The 19 new NMIN ATC recipients, the fourth group to be accredited, are listed below. All have qualified for certification as a result of their high level of engagement in NMIN HQP Program activities, having engaged in activities ranging from attendance at lectures and webinars, to participation in the HQP Research Presentations Series and serving on the NMIN HQP Network (NHN) Executive Committee.
Four qualified for Gold certification: Miffy Cheng, Yulin Mo, Liza Silverman and Wesley Walker. They continue to earn credits towards their Platinum ATC.
The other 15 qualified for Silver certification: Genc Basha, Karen Chan, Po-Han Chao, Cécile Darviot, Harrison Fan, Sarthak Garg, Isabelle Largillière, Tavonga Mandava, Samantha McWhirter, Tyler Thomson, Ariadne Tuckmantel Bido, Michael Valic, Abishek Wadhwa, Logan Zettle, and Nashmia Zia. They continue to earn credits towards their Gold ATC.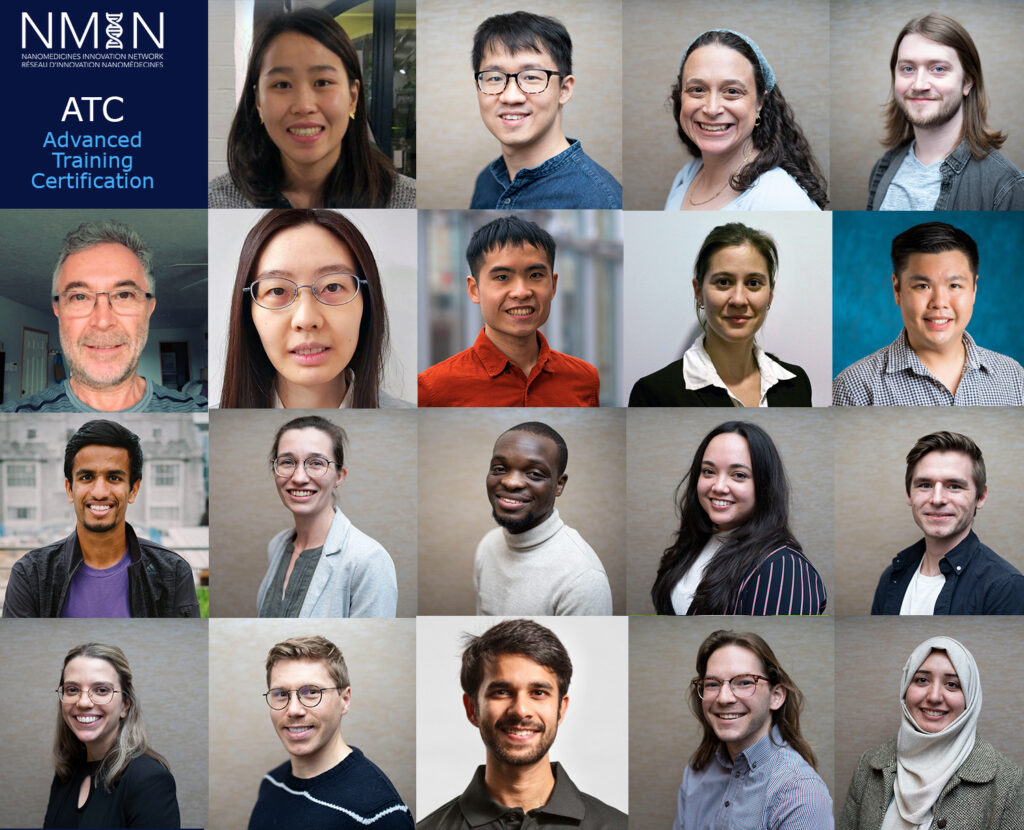 Top left to right in photo above (Gold-level ATC recipients):
Dr. Miffy Cheng, Postdoctoral Fellow, University of British Columbia; supervisor: Dr. Pieter Cullis
Yulin Mo, PhD candidate, University of Toronto; supervisor: Dr. Gang Zheng
Liza Silverman, PhD candidate, University of Victoria; supervisor: Dr. Matthew Moffit
Wesley Walker, MSc. student University of Toronto; supervisor: Dr. Gang Zheng
Second row left to right in photo above (Silver-level ATC recipients):
Genc Basha, Research Associate, UBC; Supervisors: Drs Fabio Rossi & Pieter Cullis
Karen Chan, Postdoctoral Fellow, UBC; Supervisor: Dr. Pieter Cullis
Po-Han Chao, PhD candidate, UBC; supervisor: Dr. Shyh-Dar Li
Cécile Darviot, PhD candidate, Polytechnique Montreal; supervisor: Dr. Michel Meunier
Harrison Fan, Research Engineer, UBC; Supervisor: Dr. Pieter Cullis
Third row left to right in photo above (Silver-level ATC recipients):
Sathak Garg, MSc candidate, UBC; supervisor: Dr. Marcel Bally
Isabelle Largillière, PhD candidate, Polytechnique Montreal; supervisor: Dr. Michel Meunier
Tavonga Mandava, MSc candidate, USaskatchewan; supervisor: Dr. Ellen Wasan
Samantha McWhirter, PhD candidate, Utoronto; supervisor: Dr. Gilbert Walker
Tyler Thomson; MSc candidate, UBC; supervisor: Dr. Colin Ross
Bottom row left to right in photo above (Silver-level ATC recipients):
Ariadne Tuckmantel Bido, PhD candidate, UVictoria; supervisor: Dr. Alexandre G. Brolo
Michael Valic, PhD candidate, Utoronto; supervisor: Dr. Gang Zheng
Abishek Wadhwa, PhD candidate, UBC; supervisor: Dr. Ken Harder
Logan Zettle, MSc candidate, Utoronto; supervisor: Dr. Gilbert Walker
Nashmia Zia, Postdoctoral Fellow, Utoronto; supervisor: Dr. Gilbert Walker