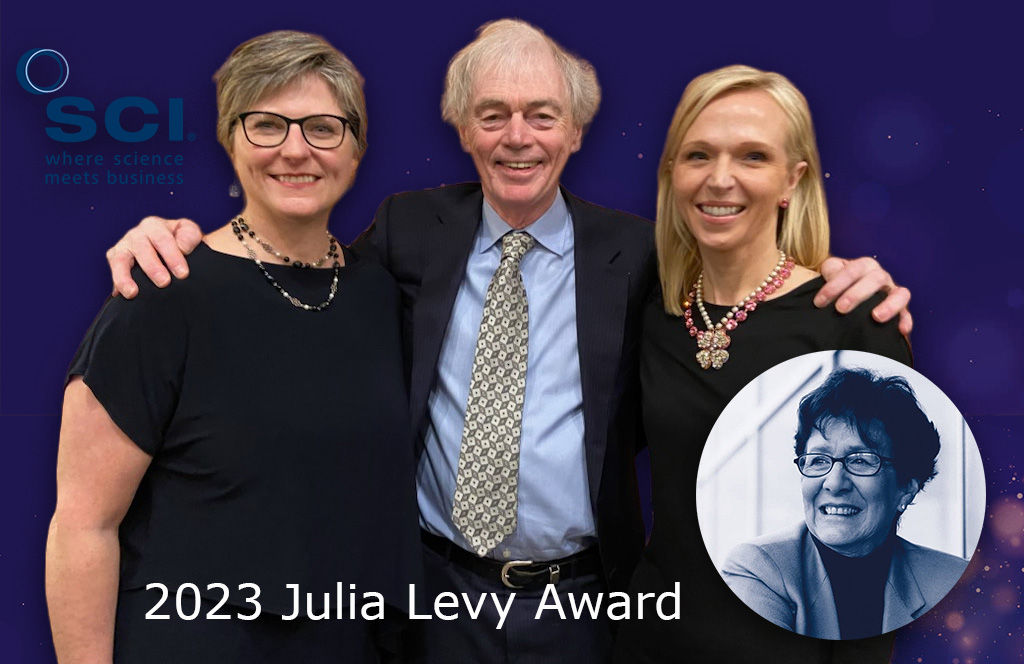 Dr. Pieter Cullis (centre) is flanked by Dr. Laurel Schafer (R), who nominated him for the award, and NMIN researcher Dr. Christine Allen (L), who is Vice-President, Ecosystem Development, for adMare Bioinnovations. Inset: Dr. Julia Levy.
On 18 April 2023, NMIN's Founding Scientific Director Dr. Pieter Cullis was presented the 2023 Julia Levy Award at the SCI Canada Award 2023 dinner in Toronto, ON.
"Since its formation in 1902, SCI Canada has recognized achievements in the Canadian chemical industry to bolster the drive for innovation and its value to society," said Dr Ravi Ramachandran, Chair of SCI Canada Awards Nomination Committee, in the SCI announcement.
"Today more than ever, innovation calls for diverse minds and skill sets from academia and industry to come together to address complex global challenges. I am pleased to announce that this year's awards cover a truly diverse set of innovators from all over Canada."
Upon receiving the award, Dr. Cullis encouraged the audience to ensure that students trained in Canada were provided with opportunities at home: "I want to emphasize how important this is. We have a situation where we're sending about 40% of our science graduates south of the border."
Since 2006, the Julia Levy Award has been presented annually to recognize successful commercialisation of innovation in Canada, specifically in the field of bio-medical science and engineering.  The award is named in honour of Dr. Julia Levy, a Canadian microbiologist, immunologist, educator and entrepreneur, and professor emerita at The University of British Columbia (UBC). Dr. Levy co-founded the biopharmaceutical company Quadra Logic Technologies (later QLT Inc.), which developed drugs for the treatment of several types of cancer and for AMD. At QLT, Dr. Levy was CSO (1984-1995) and later President & CEO (1995-2001).
Among the examples of Dr. Cullis' many successes in the commercialization of innovation is his co-founding of Acuitas Therapeutics, the Vancouver, BC-based biotech company that was granted a Global Impact Award by Life Sciences British Columbia in 2021, in recognition of the company's "extraordinary leadership and efforts they made in the development of COVID-19 vaccines."
Dr. Cullis was nominated for the Julia Levy Award by his UBC colleague Dr. Laurel Schafer.
Dr. Cullis, in most cases jointly with other international colleagues who were instrumental to the development of mRNA vaccines, has accumulated many other recent honours, including the 2022 Bloom Burton Award, the  Tang Prize, the  2021 Prince Mahidol Award,  the inaugural VinFuture Grand Prize, the 2022 Canada Gairdner International Award, and a 2023 Killam Prize.
The SCI (Society of Chemical Industry) is a global network of innovators, formed in 1881 by prominent scientists, inventors and entrepreneurs whose purpose was to accelerate the rate of adoption of scientific innovation by industry, for the benefit of society.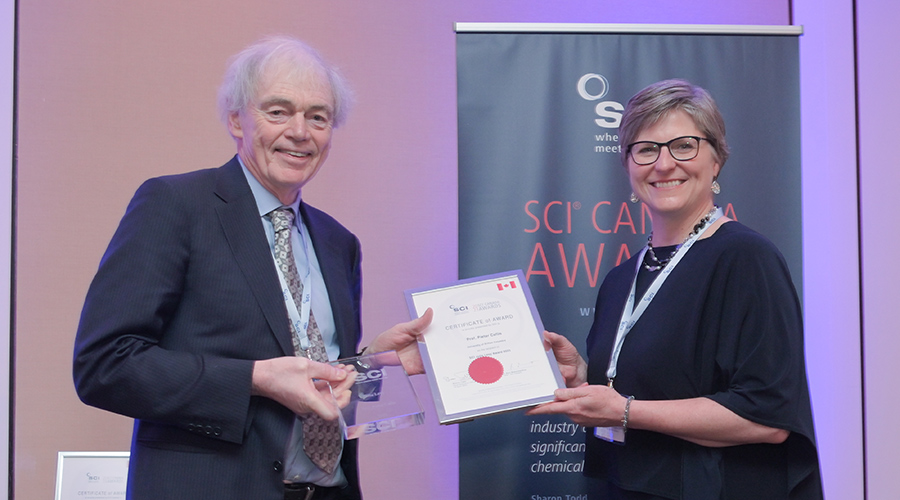 Dr. Cullis receives his award from Dr. Laurel Schafer at the SCI Canada Award 2023 dinner on 18 April 2023.
---
For more on global recognition for the role of LNPs in COVID-19 vaccines, and for Dr. Cullis's role in developing this technology, see previous NMIN reporting on this topic.