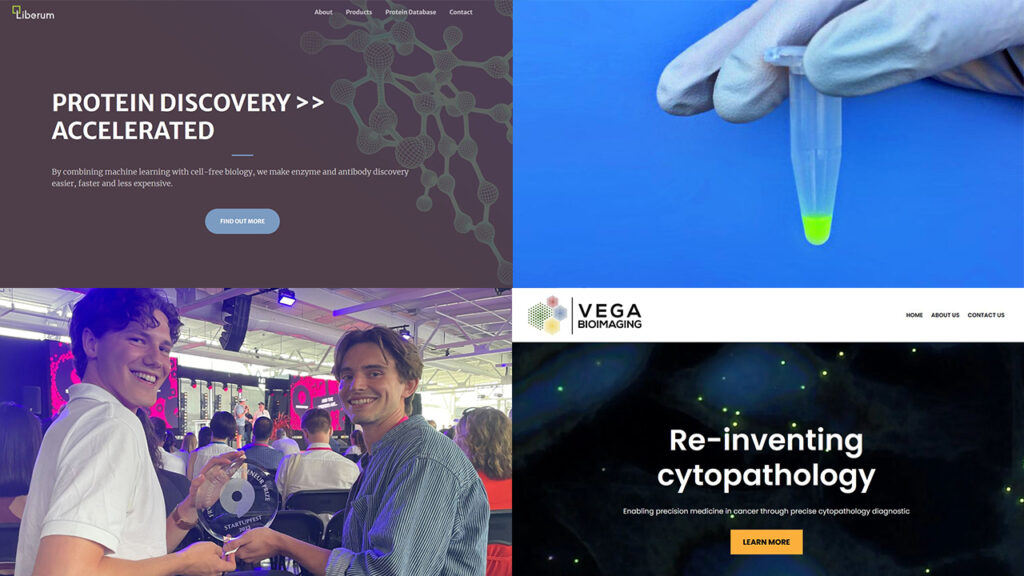 Bottom left: Vega Bioimaging's Julien Fillion & Arnaud Latreille hold the Student Entrepreneurship Prize trophy
Two of NMIN's six spin-off companies received external validation in July 2023, in the form of a funding commitment for one and an entrepreneurship prize for the other.
As reported by CPE News on 24 July 2023, Liberum Biotech has raised US $1.8 million in seed funding from venture capital firms TechU Ventures, SOSV and Savantus Ventures.
Liberum, co-founded by University of Toronto-based NMIN researcher Dr. Keith Pardee together with Ryan Fobel and Aidan Tinafar, combines machine learning with cell-free biology to make enzyme and antibody discovery easier, faster and less expensive.
As announced by Startupfest organizers on 14 July 2023, Vega BioImaging Technologies Inc. won the $50K Student Entrepreneurship Prize at the Startupfest conference, held 10-12 July 2023 in Montreal.
The prize recognizes the most effective elevator pitch—literally, with pitches being delivered to the judges in an elevator—for a start-up made by students or recent graduates involved in the company. Vega Bioimaging was represented in the competition by Julien Fillion and Arnaud Latreille.
"Congratulations to the entire Vega BioImaging team, " commented Polytechnique Montréal-based NMIN researcher Dr. Michel Meunier, co-founder of the company: "I am proud of you: Julien Fillion, Arnaud Latreille and the CEO-co-founder, Cécile Darviot!"
The prize was sponsored by Front Row Ventures, Canada's leading university-focused and student-operated venture capital firm, which backs high-impact student entrepreneurs with ambitious technology-enabled ideas.
"I offer my congratulations to the teams behind these accomplishments," comments NMIN Scientific Director Dr. Gilbert Walker. "These recognitions rightly celebrate the excellent work of the individuals involved, while bolstering the field's reputation for innovative, impactful science."
---
On the topic of accomplishments by NMIN spin-off companies, it is worth noting that NanoVation Therapeutics, a Vancouver-based gene therapy company developing next-generation LNP delivery technologies, whose CSO and CEO are both former NMIN HQP, created 13 new jobs in 2022-23 alone, has expanded operations into the UK, and has already spun-off two additional companies.