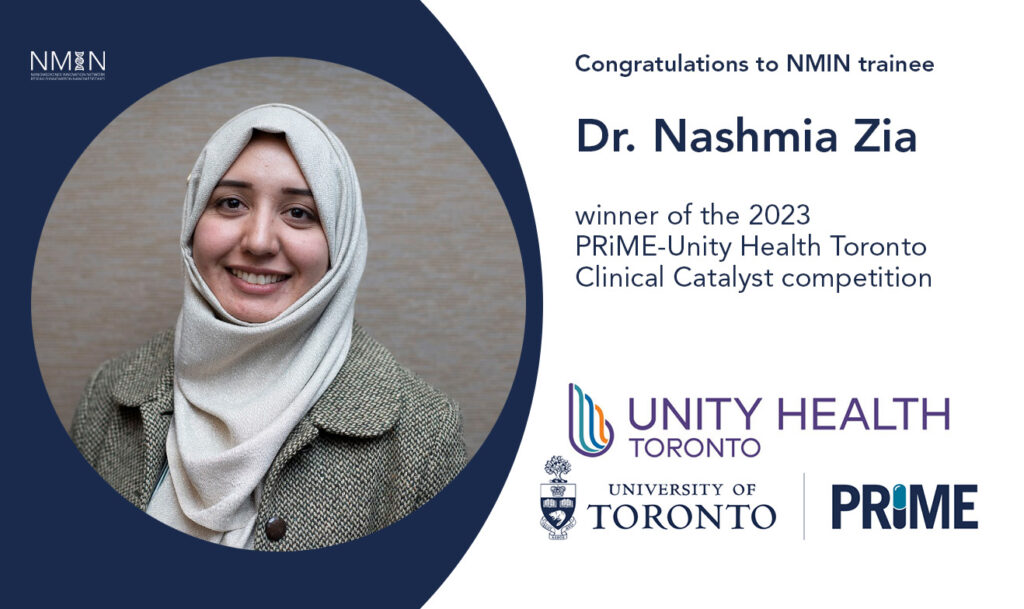 The NanoMedicines Innovation Network (NMIN) is pleased to announce that NMIN HQP Dr. Nashmia Zia has won the 2023 PRiME-Unity Health Toronto Clinical Catalyst award. Dr. Zia is a Postdoctoral fellow at the University of Toronto and NMIN's Theme 3 (Diagnostics) Research Accelerator.
The award supports a Postdoctoral or Clinical Fellow pursing a project with two or more principal investigators, at least one of whom is based at the University of Toronto and is a member of PRiME. PRiME is the University of Toronto-based initiative, co-founded by NMIN researcher Dr. Shana Kelley, that leverages world-class expertise in biologics, 'omics, molecular chemistry, liquid biopsy, nanomedicine, biology-on-a-chip and related domains to develop new solutions for unmet needs in human disease.
In her research, "Study of the Effect of microRNA Modulation on the Macrophage-Mediated Immune Regulation of Acute Respiratory Distress Syndrome (ARDS) in a Trans-Well Model," Dr. Zia will be co-supervised by PRiME Investigator and NMIN Scientific Director & CEO Dr. Gilbert Walker and Principal Investigator Dr. Claudia dos Santos from Unity Health Toronto.
Read Dr. Zia's Awardee Profile