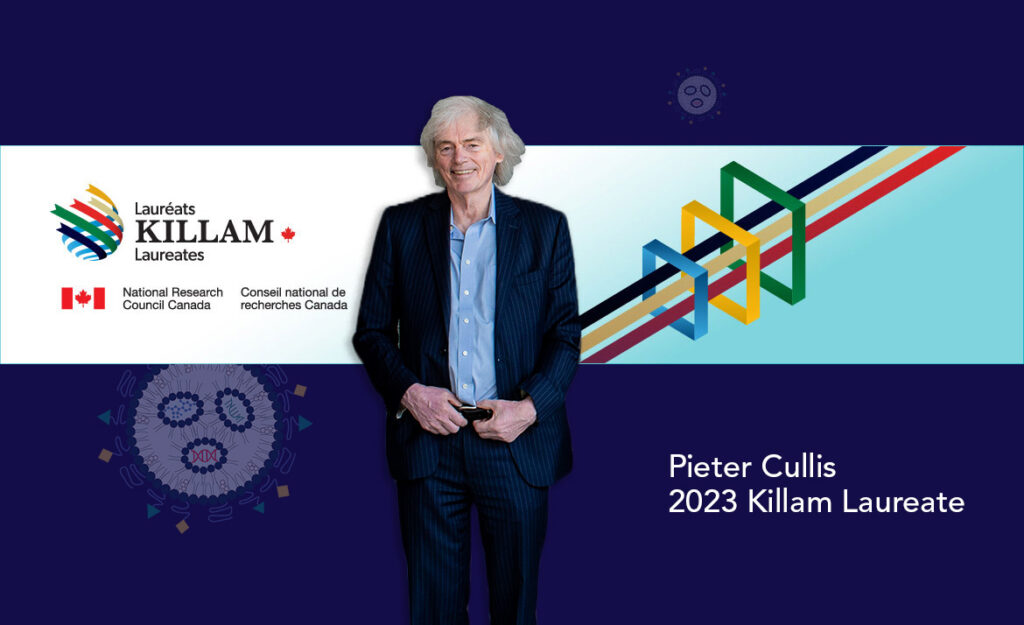 On March 15, 2023, NMIN's Founding Scientific Director Dr. Pieter Cullis was announced as a recipient of a 2023 Killam Prize.
"The achievements and aspirations of the 2023 Killam Laureates have a significant impact on our society," Maydianne Andrade, Chair, National Killam Selection Committee, was quoted as saying in the announcement. "It was an honour to chair this decision process. The accomplishments of the Prize winners shape Canada's place in the world."
In presenting Dr. Cullis as a laureate, the National Killam Program summarized his contributions as follows:
"Dr. Cullis and co-workers have been responsible for fundamental advances in the development of nanomedicines employing lipid nanoparticle (LNP) technology for cancer therapies, gene therapies and vaccines. This work contributed to five drugs that received regulatory approval by the FDA, the European EMA and Health Canada. One of the recently approved drugs enabled by the LNP delivery systems is Comirnaty, the COVID-19 mRNA vaccine developed by Pfizer/BioNTech that received regulatory approval in many jurisdictions including Canada, the USA, the UK and Europe. Comirnaty is playing a major role in containing the global Covid-19 pandemic with approximately 6B doses administered worldwide in 2021 and 2022."
The Killam Prizes are awarded to active Canadian scholars who have distinguished themselves through sustained research excellence, making a significant impact in their respective fields. The National Killam Program is administered by the National Research Council of Canada (NRC) and privately funded through the generous contribution of Dorothy J. Killam.
Dr. Cullis, jointly with other international colleagues who were instrumental to the development of mRNA vaccines, has already accumulated a plethora of recent honours, including the 2022 Bloom Burton Award, the Tang Prize, the 2021 Prince Mahidol Award, the inaugural VinFuture Grand Prize, and the 2022 Canada Gairdner International Award.
---
For more on global recognition for the role of LNPs in COVID-19 vaccines, and for Dr. Cullis's role in developing this technology, see previous NMIN reporting on this topic.