HQP Research Presentation Series

NMIN HQP Research Presentations
28 October 2021
12:30 – 1:30 pm PDT | 3:30 – 4:30 pm EDT
Non-equilibrium Structural Dynamics of Supercoiled DNA Plasmids
I will discuss some recent results involving the non-equilibrium dynamics of site unwinding in supercoiled plasmid DNA and how this fits in the context of some of our group's previous plasmid studies. The talk will also include some surprising findings, where increasing the ionic strength in a crowded environment led to an increase in site unwinding, despite the high stability of double-stranded DNA in the presence of salt. I will conclude with a brief overview of our future directions, focusing on how these studies are relevant to nucleic acid medicines and plasmids as viral vectors.
Cameron Hastie is a PhD student in the Physics and Astronomy Department at the University of British Columbia. He is a student researcher in Dr. Sabrina Leslie's group, which is known for pioneering a single-molecule technique called convex lens-induced confinement (CLiC) microscopy. His research involves investigations of nucleic acid interactions featuring CLiC and other fluorescence microscopy techniques.
Click on the poster for a PDF version.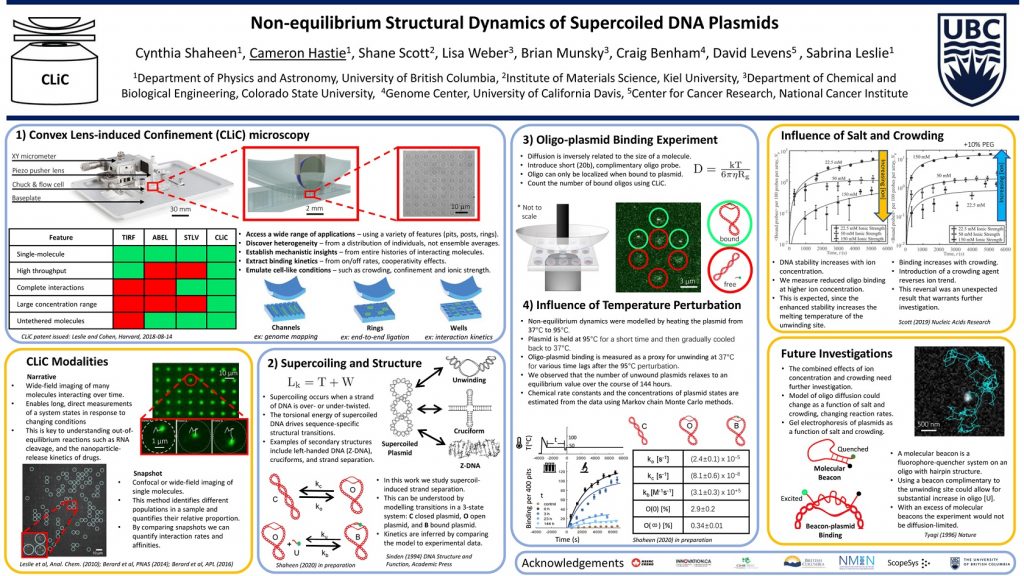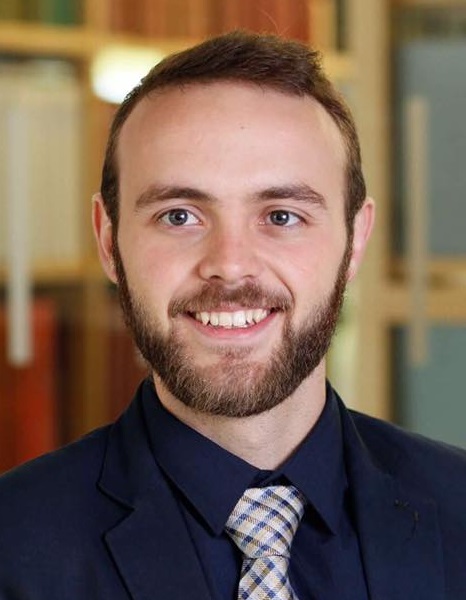 Cameron Hastie
University of British Columbia
RNA: The Key to Improving Platelet Transfusions?
Most platelet transfusions are given to cancer patients to prevent bleeding. However, these transfusions are often not very effective, and may even contribute to metastasis. To improve platelet transfusions, we propose modifying the RNA within the platelets as a starting point to control platelet function.
Madelaine Robertson completed her BSc in Biochemistry and Molecular Biology, and Neuroscience at Dalhousie University, before moving to the University of British Columbia for her MSc. She is currently a second-year master's student in Biochemistry and Molecular Biology, co-supervised by Drs. Pieter Cullis and Christian Kastrup.

Click on the poster for a PDF version.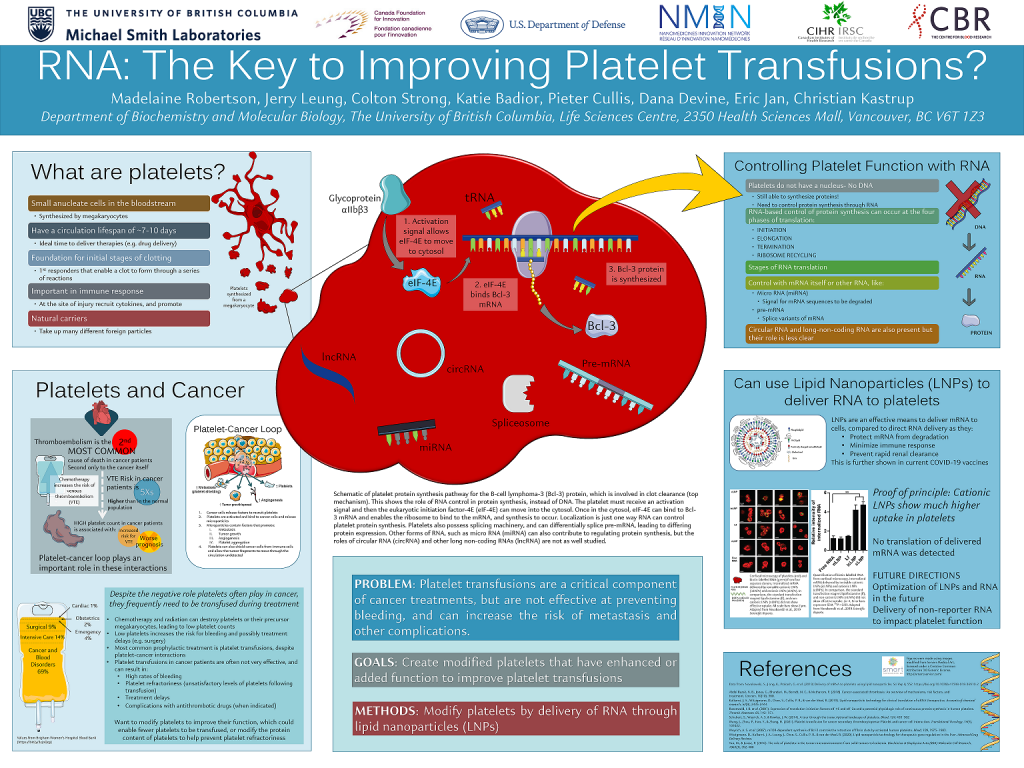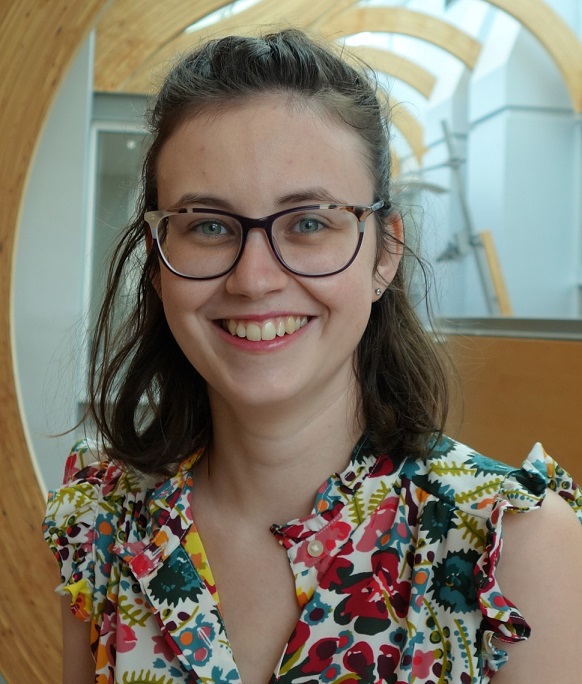 Madelaine Robertson
University of British Columbia
Development of lipid nanoparticle-enabled gene therapy approaches in the brain
Lipid nanoparticle (LNP)-enabled gene therapy is a promising approach for the treatment of genetic neurological disease. To optimize the efficacy of LNP-enabled nucleic acid delivery for this purpose, we developed an iterative screening strategy using neurons ex vivo. Here, we identify unique LNP formulation parameters for siRNA and mRNA delivery, and show that formulation potency and toxicity vary with lipid composition and dose.
Sarah Thomson is a PhD candidate in Dr. Blair Leavitt's research group at the University of British Columbia. Her research is focused on transcriptional regulation in Huntington's disease, and the therapeutic modulation of gene expression using nucleic acid effectors in the brain.

Click on the poster for a PDF version.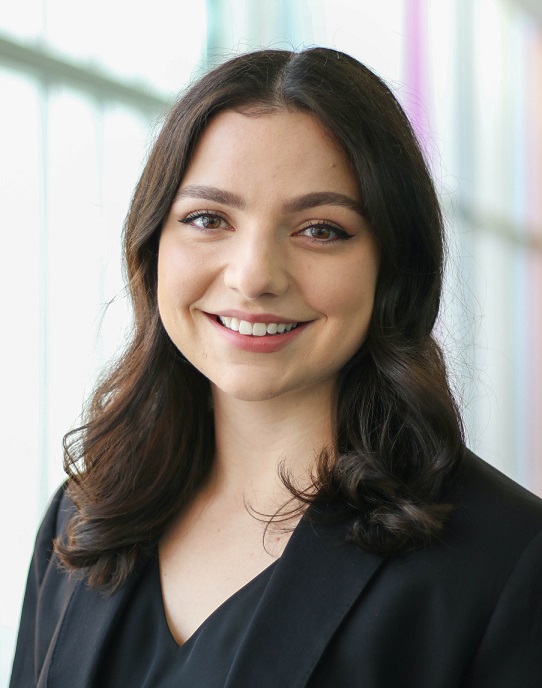 Sarah Thomson
University of British Columbia
The HQP Research Presentation Series gives NMIN HQP the opportunity to collaboratively develop their poster presentation skills, deliver a presentation in a supportive environment, and to receive constructive feedback.
NMIN HQP Research Presentations
30 September 2021
12:30 – 1:30 pm PDT | 3:30 – 4:30 pm EDT
A morphology-based classification algorithm for identifying caveolae, clathrin vesicles, and macropinosomes on electron microscopy images
Transmission electron microscopy has the resolution necessary to resolve nanoparticle-containing vesicles in cells. However, it is challenging to manually differentiate these vesicles as caveolae, clathrin, or macropinosomes. Here, we develop a classification algorithm that classifies endocytic vesicles imaged with TEM. Characterizing nanoparticle-containing vesicles helps us understand which endocytosis pathways are used by cells to transport nanoparticles.
Wanda Janaeska is a summer student in Dr. Warren Chan's lab at the University of Toronto. She is pursuing a BASc in Engineering Science with a specialization in Biomedical Systems Engineering. She is fascinated by therapeutic designs that can better tackle diseases such as cancer. In the future, she wishes to explore the intersection of nanotechnology and cancer immunotherapy.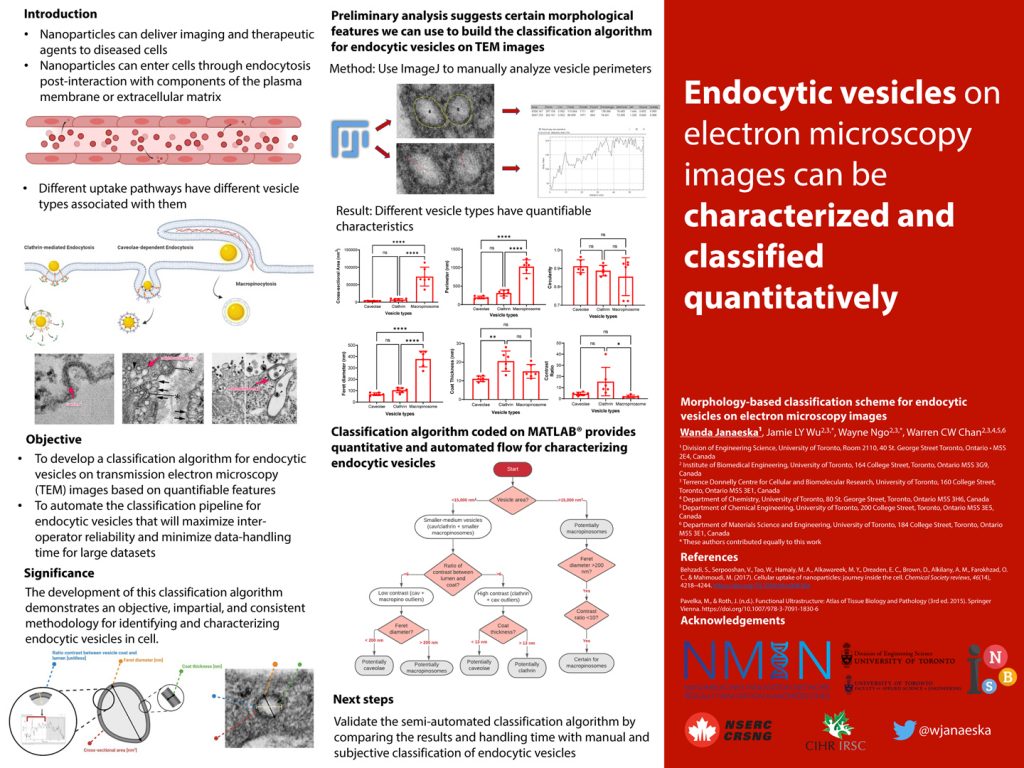 Click on the poster for a PDF version.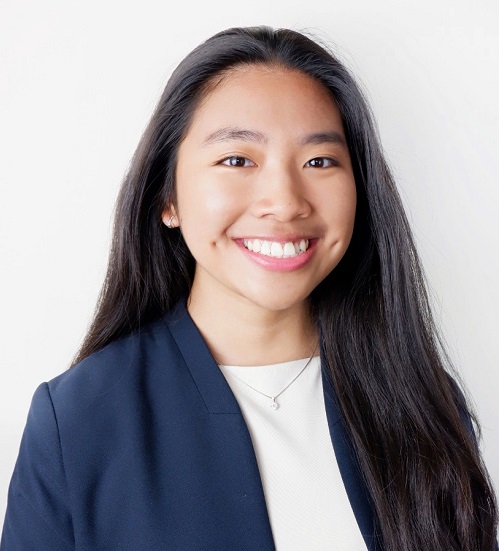 Wanda Janaeska
University of Toronto
Liposome Imaging in Optically Cleared Tissues
Three-dimensional microscopy can be used to study and improve the delivery of nanomedicines. Unfortunately, this approach is not compatible with liposomal nanoparticles because the process of rendering tissues transparent generally removes lipids. In this talk, I will describe the development of a nanoparticle tag, termed REMNANT, that enables 3D imaging of liposomes in tissues.
Presley MacMillan completed her B.Sc. (Hons) in Chemistry at Saint Mary's University. Currently, she is a fifth-year Ph.D. student in Warren Chan's lab at the University of Toronto. Her current research is focused on developing tools to study nanoparticle interactions in tumours.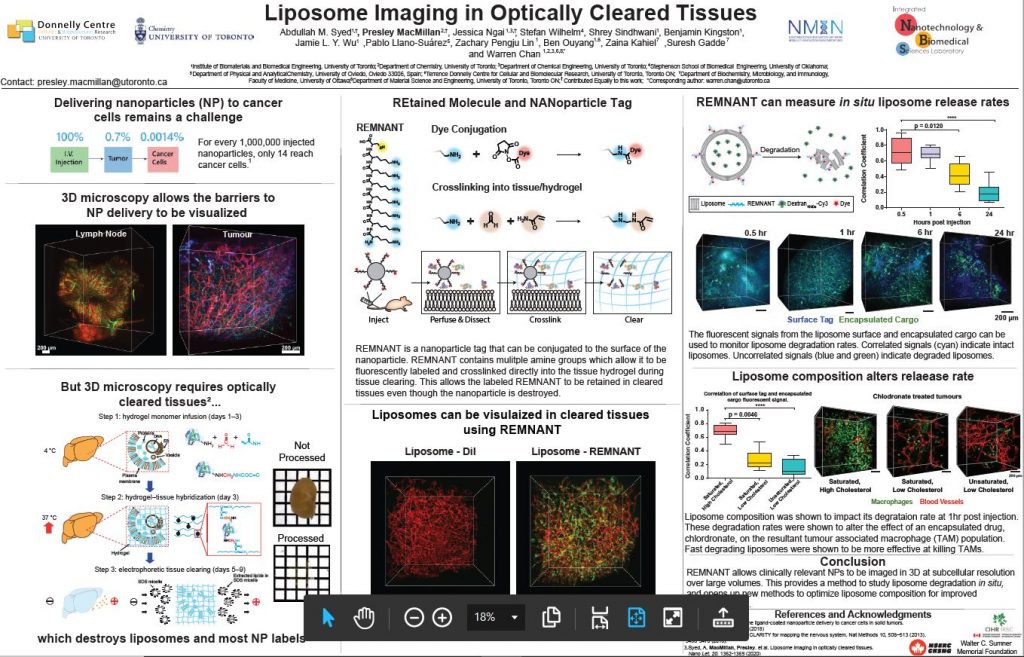 Click on the poster for a PDF version.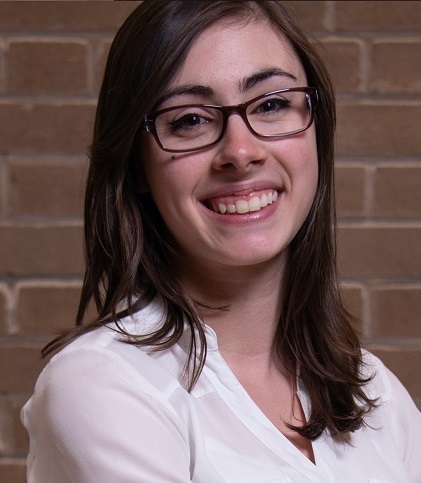 Presley MacMillan
University of Toronto
Non-invasive cornea nanosurgery using plasmonic nanoparticles and femtosecond laser
Due to the high prevalence of corneal dystrophies in North America and its important impact on the health system, we are presenting an alternative therapy for the anterior segment of the eye. Combining a femtosecond laser with plasmonic nanoparticles we perform cellular nanosurgery to treat endothelial diseases. Preliminary results in vitro showed promising results to be tested in vivo as a subsequent stage of the project.
Jennyfer Zapata is a Ph.D. student enrolled in a double degree at Polytechnique Montreal Canada and the National Autonomous University of Mexico. Her research expertise includes electronic instrumentation, biophotonics, optics, and nanoplasmonics applied in ocular gene therapy.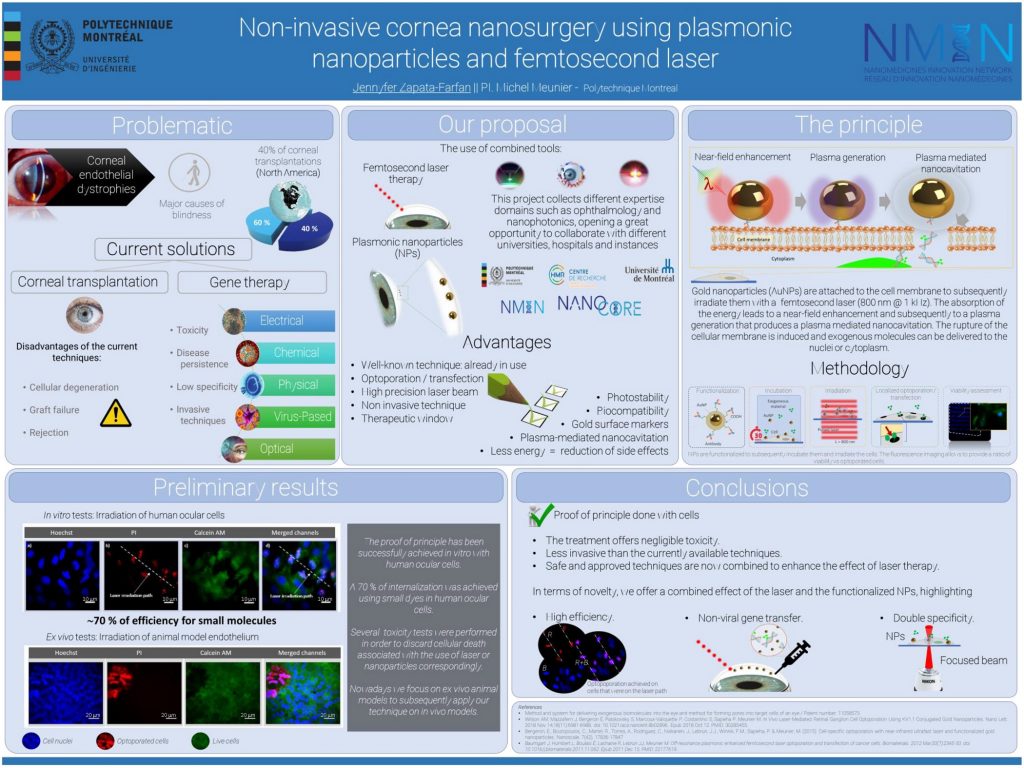 Click on the poster for a PDF version.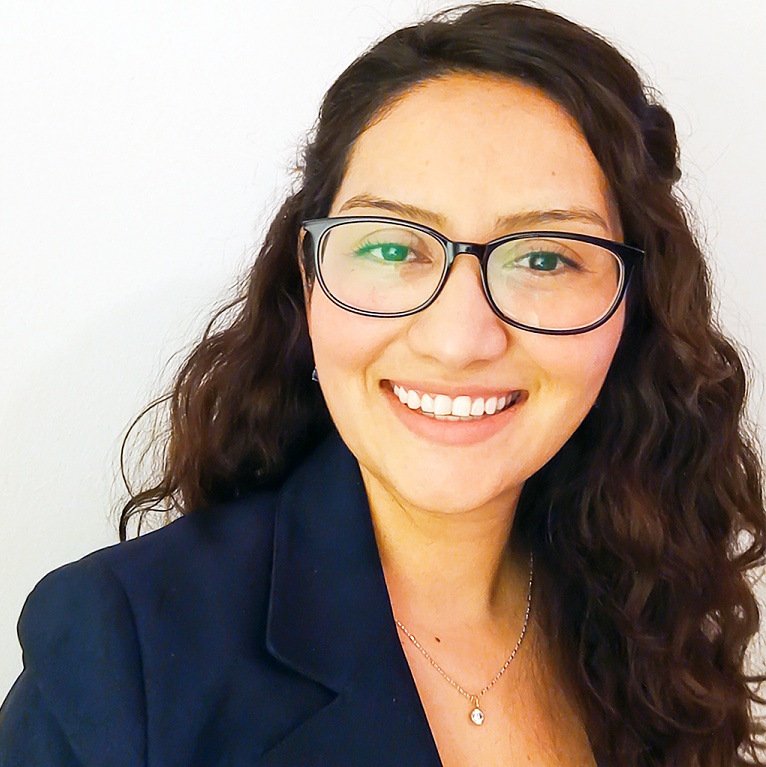 Jennyfer Zapata-Farfan
Polytechnique Montréal
NMIN HQP Research Presentations
29 July 2021
12:30 – 1:30 pm PDT | 3:30 – 4:30 pm EDT
NMIN HQP Research Presentations
27 May 2021
12:30 – 1:30 pm PDT | 3:30 – 4:30 pm EDT
NMIN HQP Research Presentations
Thursday 29 April 2021
12:30 – 1:30 pm PDT | 3:30 – 4:30 pm EDT
Thursday 25 March 2021
12:30 – 1:30 pm PDT | 3:30 – 4:30 pm EDT