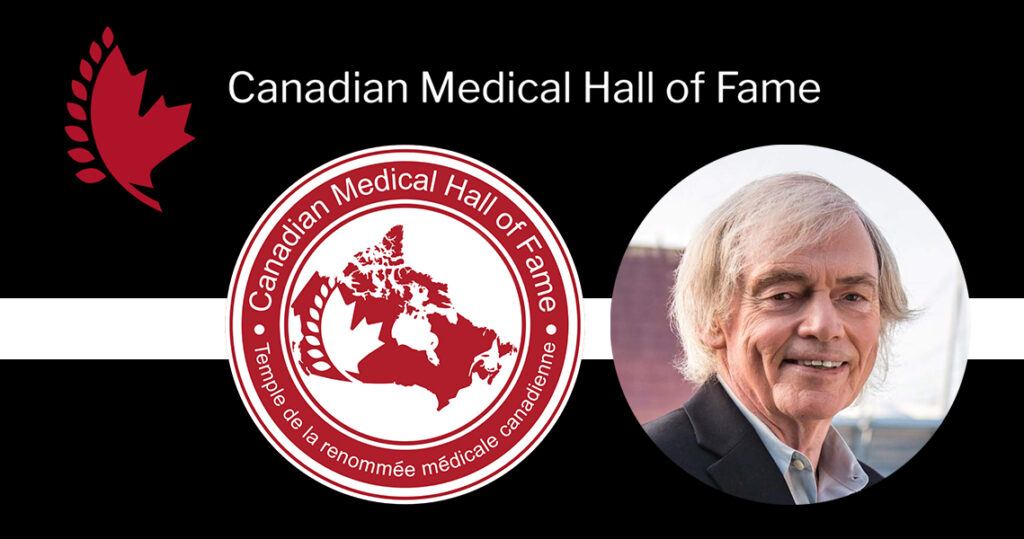 Dr. Pieter Cullis, NMIN's Founding Scientific Director, has been named as a 2024 inductee into the Canadian Medical Hall of Fame (CMHF).
"I am incredibly honoured," said Dr. Cullis. "The lipid nanoparticle (LNP) technology enabling the COVID-19 mRNA vaccines reflect the efforts of literally hundreds of people. I have been extremely fortunate to receive credit for what was really a huge collective effort."
Dr. Cullis' work has contributed to five approved drugs, including Comirnaty, the Pfizer/BioNTech COVID-19 mRNA vaccine.
"The Canadian Medical Hall of Fame is proud to welcome [the 2024 inductees] whose outstanding contributions to health have made Canada, and the world, a better place," commented CMHF Chair Dr. Cynthia Forbes.
The Canadian Medical Hall of Fame celebrates Canadian heroes whose work advances health in Canada and the world, fostering future generations of health professionals through the delivery of local and national youth education programs and awards.
Dr. Cullis, jointly with other international colleagues who were instrumental to the development of mRNA vaccines, has already accumulated a plethora of recent honours, including being elected to the Royal Society (UK) and appointed to the Order of British Columbia in 2023, the 2022 Bloom Burton Award, the 2023 Killam Prize, the 2023 Julia Levy Award, the Tang Prize, the  2021 Prince Mahidol Award,  the inaugural VinFuture Grand Prize, and the 2022 Canada Gairdner International Award. His co-awardees on many of these honours—Drs. Katilin Karikó and Drew Weismann—were awarded the 2023 Nobel Prize in Medicine.

---
For more on global recognition for the role of LNPs in COVID-19 vaccines, and for Dr. Cullis's role in developing this technology, see previous NMIN reporting on this topic.